Adroit Control Engineers Pvt. Ltd.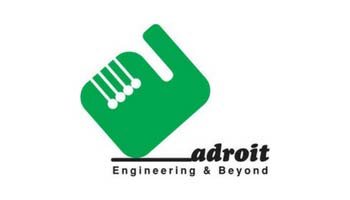 Adroit Control Engineers Pvt. Ltd, in quest to be one of the leading engineering company, serves it's customers to use electrical power effectively and increase industrial productivity through automation in a sustainable way.
Established in 1994, Adroit is a CPRI approved low voltage Switchboard & Control Panel manufacturer. Our products ranges from the fully intelligent, engineered & custom tailored LT Panels, PCC, MCC, Control cabinets, terminal boxes and marshaling cubicles.
Adroit is your source for vast array of products & services required while you measure, monitor or control any physical parameter & logic function either on your machine or process. Our products are augmented with services from concept to commissioning. "Solutions & Services to PLASTIC industries" is an integral part of business at Adroit.
We strive to provide our customers completely integrated solutions using innovation & quality products, combined with unrivalled services and reliability. Our Manufacturing facility is equipped with modern machinery, best of talent and know-how to cater to its esteemed customers with wide spectrum of products.
Developing competence to international standards has yielded its name in international market through export to Europe, America, Bangladesh, Dubai, Nigeria & Egypt.Co-operation with leading control device manufacturers like Pepperl & Fuchs, Larsen & Turbo, Yaskawa, Rishabh, PT & CST has made Adroit a strong contender for being a single window for automation solutions.
"We regard quality as our lifeline, customer's demand as our motivation, keeping development and leading the market as our responsibility with customer satisfaction as our ultimate goal"
SERVICES
In the last few years we have left a mark in the field of Control Panel Development and services. With the kind of skills and experience we have in our work, we make sure you avail the best solutions for the technical challenges.
Conceptualising Designing & Commissioning
Preventive Maintainance
Refurbishment
Service Exchange