Ethernet moves a bit closer to the field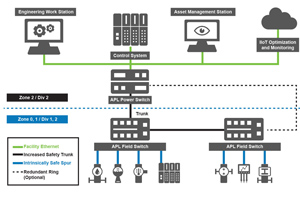 The latest developments to the Advanced Physical Layer project to enable Ethernet to the Field were reported at ACHEMA by three leading standards-based organisations for suppliers of process automation. Suzanne Gill reports.

At the ACHEMA 2018 exhibition in June a joint press conference, held by FieldComm Group, ODVA and Profibus International (PI), offered an update on APL project developments. The APL project was initiated in 2011 when a group of solution suppliers set out to create a protocol-neutral, advanced physical layer (APL) that could solve the problem of finding a suitable long-reach Ethernet solution that could be used in process automation and on instrumentation to connect field devices in remote and hazardous locations.
Much of the press conference discussion revolved around the publication of a joint Whitepaper – Ethernet to the Field – which lays out the vision and timeline for the project. "The project development team is making good progress and products are expected by 2022," said Dr Jorg Hahniche, chairperson of the steering committee for the APL project. To ensure that this timeframe is adhered to the organisations are seeking to leverage the work already taking place within the IEEE 802.3cg Task Force which is working to extend the Ethernet physical layer operating at 10 Mb/sec over single-pair cable.
So far the APL project has proved the feasibility of a solution for this problem. It also generated interest in an industry-wide solution based on IEEE Ethernet standards which resulted in the creation of the IEEE P802.3cg project to focus on the development of enhancements to the existing IEEE 802.3 Ethernet standard (IEEE 802.3) for Ethernet via twisted-pair wiring (10BASE-T1L) that would allow for long-reach applications within hazardous areas.
The argument behind the need for such a solution was that as the process industry moves towards Industry 4.0, it requires a network standard that can transfer process data from instruments to communication systems with the speed and flexibility of standard Ethernet and IP technologies to replace existing field devices which typically rely on traditional fieldbus network infrastructures that hinder the implementation of increasingly data-intensive applications.
The draft of the enhanced standard resulting from IEEE P802.3cg will include specifications for short-reach constrained applications and for powering and it is expected to be completed in 2018, with the amendment to IEEE 802.3 expected to be approved before the end of 2019.
Working in parallel with the IEEE project, the APL project – which is supported by key process industry suppliers – in addition to leading standards development organisations for industrial communications – has focussed on an extension of 10BASE-T1L for use in hazardous areas, to develop standards for all typical protection methods, especially intrinsic safety.
Key aspects of these parallel projects include efforts to amend relevant IEC standards for the installation of Ethernet devices in hazardous areas. After completion of all IEEE and IEC standards and related field device conformance tests, Ethernet to the Field should finally be ready by 2022.
APL technology and ecosystemAPL is a ruggedised, two-wire, loop-powered Ethernet physical layer that uses 10BASE-T1L plus extensions for installation within demanding operating conditions and hazardous areas of process plants. It enables a direct connection of field devices to Ethernet-based systems to enable a convergence of OT and IT systems. Utilising a switched architecture eliminates any unwanted interference between devices connected to the same network.
Aside from cables and connectors, an APL infrastructure will consist of two basic components:
• APL power switches which will provide connectivity between all standard Ethernet networks and field devices. They will include power supplies to provide power to the APL field switches and field devices. Typically they will be located in the control room or junction box on a skid. • APL field switches for installation and operation in hazardous areas. They will be loop-powered by the APL power switch and will distribute both communication signals and power via spurs to the field devices.
Asked about the expectations for APL, Katherine Voss, president of ODVA, said: "As the process industry moves towards more converged network architectures many Industry 4.0 concepts relating to digitalisation and transparency are being realised. APL will flatten the architecture to eliminate the need for gateways. It will also prepare industrial communications for the next generation of workers who are more likely to want to use Ethernet instead of fieldbus.
"Ethernet to the Field is just a means to achieve the goals set out by Industry 4.0. APL in particular will address a particular use case within field devices for long reach intrinsically safe applications where power is required. I think that 2022, the year that APL products should start to emerge, will be a real tipping point for industrial Ethernet."
Ted Masters, president of Fieldcomm Group, continued: "The process industry is hungry for data and I believe that the ability to leverage more real-time data at the speed of Ethernet will be a key driver for migration to APL. We see a lot of ways that this migration could take place but the expectation is that it will be the really high value assets – high data usage devices, such as valves and analysers – that will lead the way, being the first devices to be upgraded to APL."
While APL technology is not directly retrofittable into existing devices, there will be ways to communicate to existing legacy devices through an APL network so it will be possible to migrate slowly towards the technology with networks mixing legacy devices and APL devices in a blended, seamless, scenario.
"The value of the data is greater than the cost of APL and I think it is the ability to gather data from field devices that will drive the continued migration to Ethernet – starting with the highest value devices," concluded Masters.
As part of the joint promotion of APL, and because of its potential adaptation to their respective Ethernet networks – EtherNet/IP, HART-IP and ProfiNET – the three standards-based organisations have agreed to provide future updates on the project at venues relevant to end users in the process industry. Control Engineering Europe hopes to report further from many of these events.